""The fruit of faith is LOVE.
The fruit of love is SERVICE.
The fruit of service is PEACE."
The Catholic faith is at the center of all that we do at Conwell-Egan Catholic High School. As Mother Teresa says above, our faith leads us to a love of others, which then leads to a heart of service. The Christian Service program is an opportunity for students to not only put their Catholic faith into action, but to be engaged in the local community. These motivating factors lead into the purpose of the CEC Christian Service program, to be in tune to the needs of the local community and to provide opportunities for meaningful service that helps our students to be built up in their faith.


"For even the Son of Man did not come to be served, but to serve, and to give his life as a ransom for many."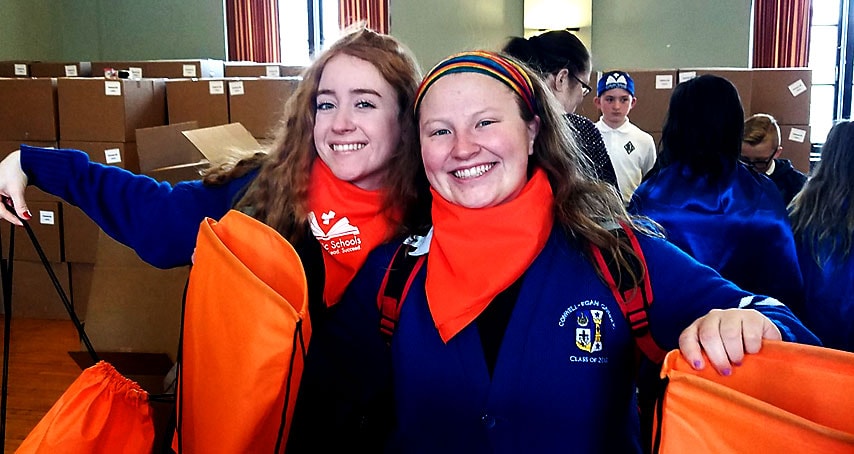 Requirements
FRESHMEN:
1 Service Event per year (Completed on Freshmen/Sophomore Day of Service)
SOPHOMORES:
1 Service Event per year (Completed on Freshmen/Sophomore Day of Service)
JUNIORS:
1 Service Event per semester
SENIORS:
1 Service Event per quarter
These Christian Service events will be organized by the Campus Ministry Office and a calendar of events is provided here. Additional events will be sent to the students via email and will be updated on the calendar. In order to receive credit for an event, students must sign up for the event in advance via the event's Google Form, complete the required waivers and attend the event for its entire duration. Students who completed Service Events over the summer will receive credit for Semester 1/Quarter 1. The Google Form to submit Summer Service can be found here.
Please contact Father Kyle Adamczyk, Director of School Ministry, with any questions or concerns.