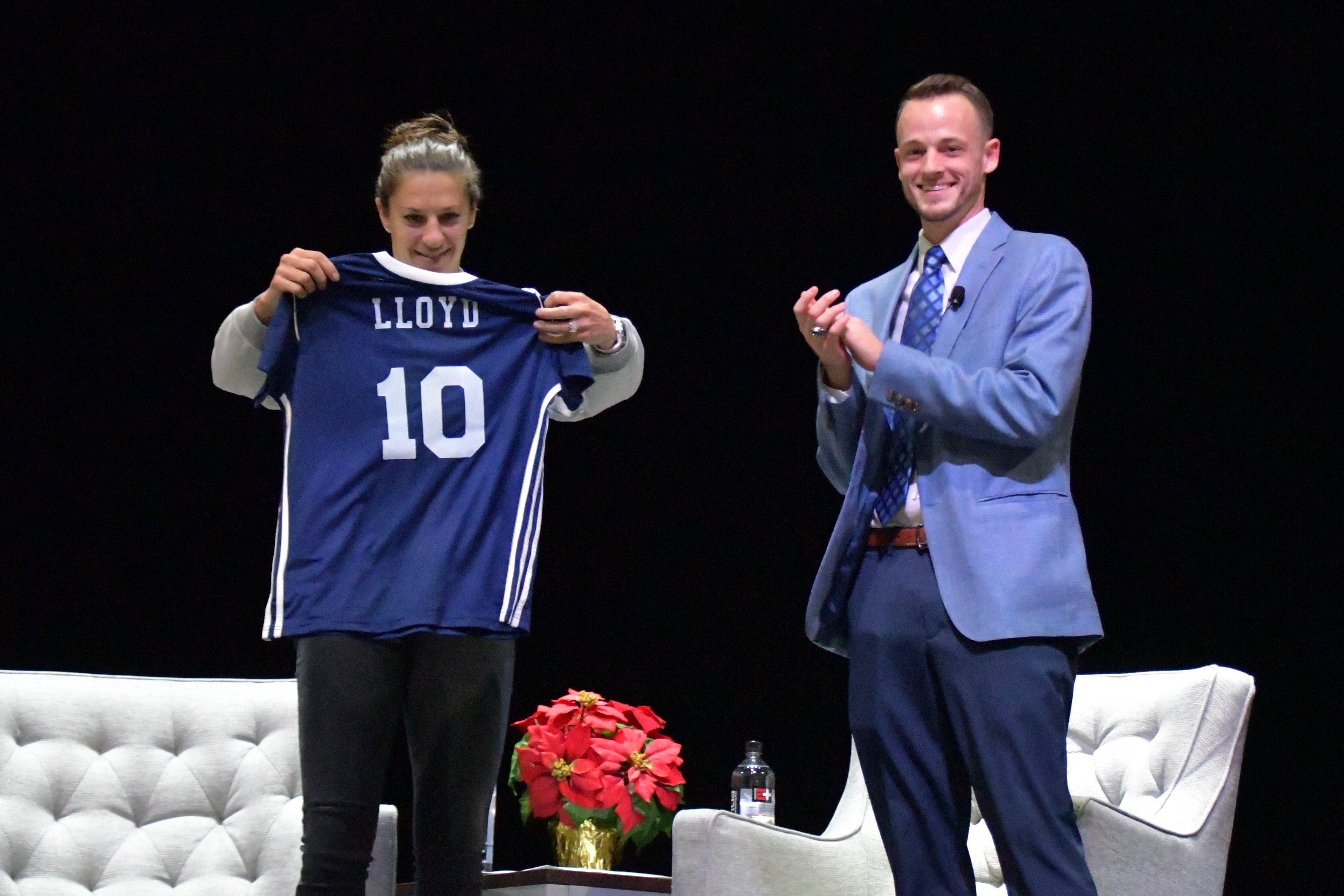 December 20, 2019 (FAIRLESS HILLS, PA) -- Two-time Olympic Gold Medalist and FIFA Women's World Cup Champion Carli Lloyd stopped by Conwell-Egan Catholic High School (CEC) on Wednesday, December 18 to speak with students in the school's brand new Center for Performing Arts. Organized by CEC's innovative Center for Student Leadership (CSL), the soccer star sat down and answered questions from students about her career, gender inequality in sports, and her work ethic.
Lloyd began with an overview of her rise to success; outlining the path of her soccer career and the challenges she overcame to become one of the world's best athletes. Growing up in Delran, New Jersey, Lloyd said that although she never had the "best cleats, or the best equipment", she had the dedication and support of her family that helped her get to the top.
A member of the U.S. Women's National Team, recently named Time Magazine's 2019 Athlete of the Year, Lloyd allowed CEC students to get to know her through a Q&A session.
"I have watched Carli and been a fan for so long so it was awesome to meet her and talk to her," said CEC senior and soccer captain Gracie Terry. "I was most impacted by how she said her 80% was some peoples 100%. That resonated with me the most because she has the right to be proud and it was empowering to hear her say that. It was also inspiring when she spoke about how success is different for everyone and you don't have to compare yourself to others."
Throughout the session, Lloyd focused on the importance of work ethic and commitment. Recalling adversity early in her career, she spoke of the spark that ignited after she was not chosen for the under-21 national team roster for the 2003 Nordic Cup Tournament. She had considered quitting the sport, but ended up connecting with James Galanis, a local trainer whom she credits with changing her mentality and approach.
Mr. Jordan Schiavo, Director of the CSL, led the Q&A session with Carli, with student-submitted questions that the students themselves were able to ask. "It was truly an honor to host Carli and have her speak with our students about her incredible journey to the top of her sport," said Schiavo. "The CSL aims to continue to provide our students with opportunities to hear from professionals from all walks of life. This exposure helps them to prepare them to make informed decisions for their future and unlock their true potential."
Through its speaker series, professional internship opportunities, mentor program, and exposure to executives and leaders of industry, the CSL provides a unique resource for CEC students as they work towards becoming the leaders of tomorrow.
For more information about Conwell-Egan Catholic High School or the Center for Student Leadership, please call 215-945-6200 or visit www.conwell-egan.org.
About Conwell-Egan Catholic High School
Conwell-Egan Catholic High School, a co-ed, college-preparatory school within the Archdiocese of Philadelphia, serves 430 students in Lower Bucks County in grades 9-12. CEC's mission, within the tradition of our Catholic faith, collaborates to build character through service, achieve academic excellence, and demonstrate a commitment to lifelong learning. CEC is accredited by the Middle States Association Commissions on Elementary and Secondary Schools. To learn more visit www.conwell-egan.org or call 215-945-6200.