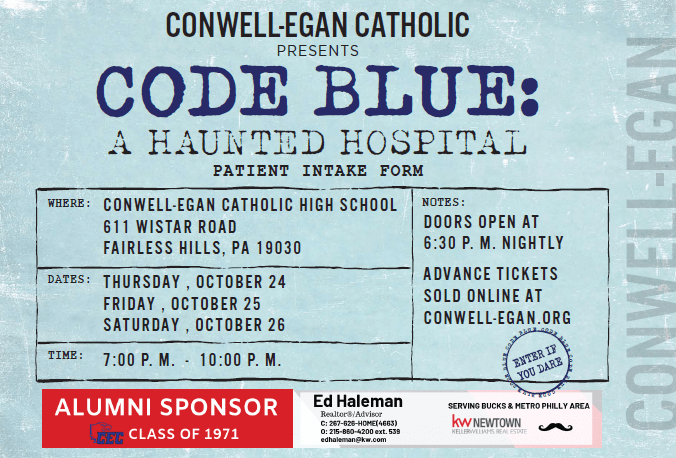 Join the CEC Drama Program for its 2nd annual Fall Haunted House production, Code Blue: A Haunted Hospital. Our student actors will bring the hallways and the classrooms of CEC to life in this one-of-a-kind interactive theatrical experience! Tickets will be timed, so in order to guarantee your time-slot, advance purchase is recommended! Tickets will also be available at the door, but early time-slots cannot be guaranteed with door tickets. Advance ticket sales will be ONLINE ONLY. If you have any questions, please contact Tom Kuchler, Director of Performing Arts, at tkuchler@conwell-egan.org.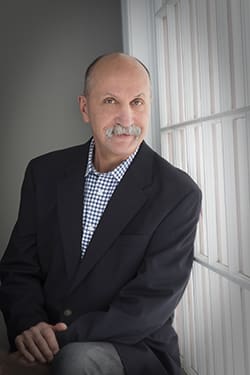 Meet our Alumni Sponsor! Ed Haleman '71

Ed Haleman has been a realtor in Bucks County and surrounding areas for over 38 years. He is committed to service and treats each of his clients and referrals with respect and concern for their time, investment and goal(s). Ed is dedicated as a professional to providing service beyond the norm! Ed was just awarded one of "The Top 10 Realtors" in Pennsylvania, a great honor for his years of dedication to his profession.
Ed has been a lifelong resident of Bucks County and is a 1971 Conwell-Egan Alumni. Ed recognizes the value of community involvement and has worked together with many organizations to help with a variety of charitable endeavors. His passion is to help all people with service commitments from firefighters, law enforcement, EMT's/paramedics and the military. Ed has a number of programs to assist each of these groups in reaching their real estate goals and is now reaching out to help Conwell Egan High School. Ed is offering all alumni and Egan associates a $1,000 scholarship towards the department at Conwell Egan of their choice with each contract that is brought to closing. A great way to support our school!
From theatre to open studio art, to chorus and band, students are given the opportunity to sharpen their creative skills and master new talents. CEC's Fine Arts program is proud to offer opportunities in various areas of the visual and performing arts. These Opportunities include:
Scholarships for visual arts, instrumental music, and vocal music through the Dahaner Lynch Family Foundation
Submissions in local, statewide, and national art shows and competitions
Connections to professional art and music summer and weekend programs
Acting workshops with local and professional actors
Participation in honor choirs, bands, and orchestras at the Archdiocesan level
Three theatrical productions, including a musical and a haunted house
Solo musical performance opportunities in the school and in the community
Above all, the arts are a reflection of humanity, and the CEC Fine Arts program aims to give students the opportunity to better understand themselves and the world around them. This is done through the study and creation of different types of art, through expression on the theatrical stage, and through working together in the performing ensembles to captivate audiences in their productions. Through these shared journeys, the Fine Arts program works to prepare its students for life after graduation.