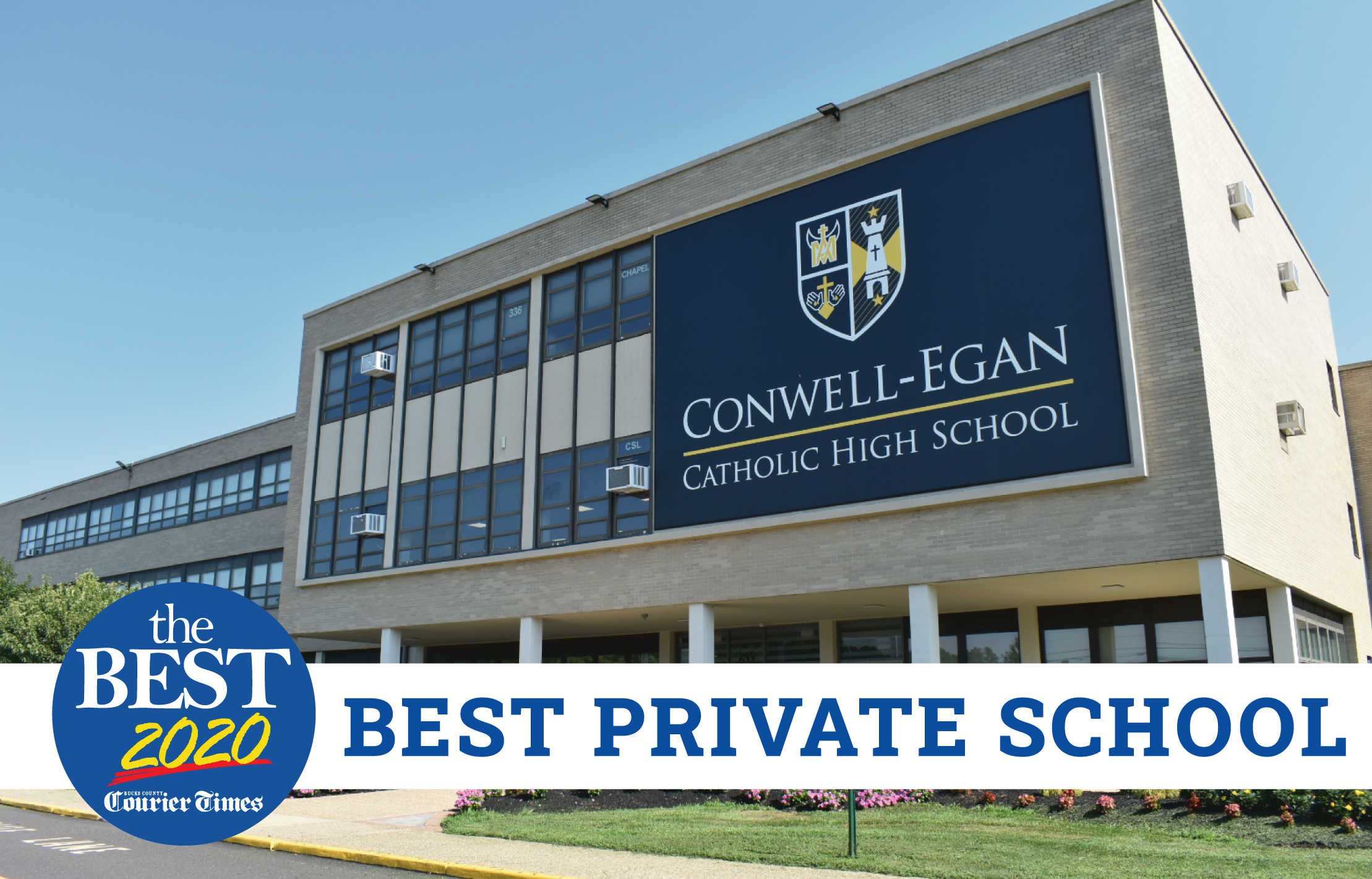 December 15, 2020 (FAIRLESS HILLS, PA) – Conwell-Egan Catholic High School (CEC), a co-ed, Catholic preparatory school serving students in grades 9-12, was recently named Best Private School in the Bucks County Courier Times Best Of contest. Nominees included many local private elementary and high schools.
The Courier Times collected online votes for the competition with a nomination period in August and open voting in October. The top three candidates were announced in November, followed by a virtual awards show in December to announce the winner.
Matthew Fischer, Principal at CEC, was thrilled to learn the news of the results. "We are incredibly grateful to everyone who voted for CEC for Best Private School. To be recognized by our own community demonstrates our commitment to our students and families. Our faculty and staff continue to work diligently to ensure our students feel safe while also providing an education that is challenging and effective in preparing them for life after graduation. CEC is dedicated to living its mission every day – providing a robust educational experience that is rooted in tradition, spirit, and community."
CEC was recognized for its excellence earlier this year after being named Best Private School on the Bucks Happening Happening Listand was also featured in Suburban Life magazine for its innovation, leadership, and continual self-improvement.
"This award is truly an honor and testament to the tight-knit and welcoming experience that our faculty, staff, and families have delivered for a long time. CEC is dedicated to constantly improving the tools it provides for the best learning environment for our students, with recent upgrades across campus including our brand new turf field, increased support in our Counseling Center and Academic Resource Center, renovated gymnasium, and state-of-the-art Performing Arts Center. This year especially, we owe our success to the great dedication of our faculty and students who work together to make CEC what it is day in and day out," added Fischer. "CEC is truly an innovative and special place with an exciting vision for the future."
Interested in learning more about Conwell-Egan Catholic High School? Contact the Director of Admissions, Mrs. Kate Rice, at 215-945-6200 Ext. 410 or krice@conwell-egan.org to schedule a tour. Please visit www.conwell-egan.org for more information about scholarship and financial aid programs available for incoming and transfer students.
About Conwell-Egan Catholic High School
Conwell-Egan Catholic High School, a co-ed, college-preparatory school within the Archdiocese of Philadelphia, serves 450 students in Lower Bucks County in grades 9-12. CEC's mission, within the tradition of our Catholic faith, collaborates to build character through service, achieve academic excellence, and demonstrate a commitment to lifelong learning. CEC is accredited by the Middle States Association Commissions on Elementary and Secondary Schools. To learn more visit www.conwell-egan.org or call 215-945-6200.