March was Women's History Month!
CEC's Diversity, Equity, and Inclusion Committee, led by Mrs. Kristen Kraunelis (ELA), presented a focus on contemporary women who are positively impacting the world today and women who will positively impact our world in the future - current CEC seniors! These Senior students researched the women that inspire them and continue to shape our world in meaningful ways. Join us as we celebrate the contributions of women!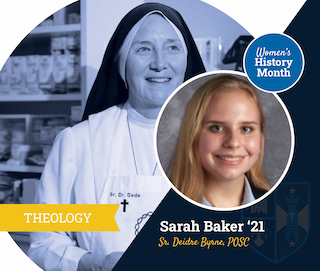 Sr. Deirdre Byrne, POSC is a remarkable woman whom I greatly admire. After her college career, she enrolled at Georgetown University and entered med school where she completed her surgical residency. During that time, she also joined the Army, which is a lot to take on in such a short period of time. She inspires me because she has let nothing hold her back and she is committed to helping everyone, no matter what it may cost her.
My personal achievements: I attended Kairos my junior year and I was just recently selected to be a leader for this year's Kairos retreat. Also, I received the "Community Service" Award from the Danaher Lynch Family Foundation.
Content coming soon...